How long have jeans been around? Since 1873 when Levi Strauss and Jacob Davis patented them in a partnership. And you know what? There are millions of people world wide who are so glad they did. People all over the globe wear jeans almost every day and even the young critters who see their dads wearing the ol' blue jeans are hammerin' for a pair of their very own.
Jeans became a staple in almost every single wardrobe or closet all across the world and they've come a long way since a generation upon a generation wore them and watched them evolve and change as they became adorned with wonderful designs, rips and tears, bleach spots and flairs. Oh the stories jeans can tell the next generation would probably curl your hair.
But they, in their humble way have grown to become a much loved item that is a fashion necessity that cannot possibly be omitted. Even when the damn things have been worn to death, they still manage to make a second coming as their legs are cut off and they become the classic jean shorts on many a sexy bum.
So it is, in no particular rank, order or priority, that we list the Top 10 Best Selling Jeans Brands, World Wide for 2016.
10. Lucky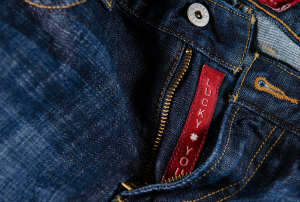 Ah Lucky you in a Lucky brand of jeans which sewn with quality denim, are affordable and probably join the ranks of the durable dungarees. Lucky, being based in the States cater for the legs of men and women alike and have surpassed quality even with a thought for price. Boot-cut, straight-leg, skinny, whatever your preference your money invested in a pair will probably outlast you. Oh and you are lucky because these jeans are all over the world in places like Sri Lanka, Mexico, Chile, Indonesia … that's a fair scope yet.
9. Calvin Jeans
Iconic or just call them jeans; they cannot escape the fact they are America's famous jeans brand that has infiltrated the world. The brand is an affordable price regardless of its famous name and has become a hot favourite in the U.K. and Deep Down Under where the Australian's have recognised this brand as quality jeans. With sophisticated styles for men and women, they are chic for the bums that want to be encompassed by quality – with a capital Q.
8. Pepe
Pepe is as casual as jeans can be and it is also a brand that is
known globally for its versatility. Born in London in 1973, Pepe took the hippy movement by the waist and shook it. Pepe never lost its appeal and the jeans, a variety that covered a wide range of rears, lived to tell a story of its own. Apart from epic comfort, Pepi made it through to the market world wide and gave the population who were still wearing jeans or just discovering them, an experience that to this day is not forgotten. Shape, length, durability … Pepe still has it all.
7. Guess
Guess went all out when they decided to cater for the entire family. Men, women, their kids, even their dog was dressed in Guess. Well not entirely, but you get what we mean. High rise, low rise, mid rise and skinny, they came and they went with the fashion trends, but the quality has remained. Guess is one of those die hard brands that just won't die. With new butt lift for the women, it's only a Guess what they'll do for the guys.
6. For All Mankind
A famous American Jeans Brand established by Michael Glasser. He put a lot of thought into the jeans for the man and made them available for every size and for every age from the littl'n's to the big'n's with a price that was reachable. There was no scrimping on quality here and as this audacious jean soared in popularity, so it has become one of the most selling brands in the world and will likely remain throughout 2016 to 2017 and beyond.
5. Diesel
Even the name spells economy but it remains in the top 5 of the best sellers list. Italians are known for their temerity and with a determination to pursue quality, Diesel was born in 1978. Been around a while, this jean has covered the bums of kids, and adults alike and with a quality unsurpassed, it remains a brand that is hugely respected. Of course it has evolved, Diesel has a brother, Diesel Black Gold and siblings, Diesel kids. Full of innovation, Diesel continues to launch new and innovative trends that are respected and no doubt emulated the world over.
4. Wrangler
The Wrangler jeans brand will never depart. Invented in the United States, Wrangler has covered the bum of many a man and woman all over the world with a tough, hard working denim that has never let us down. It has grown as brands do, but this particular one has shone throughout the years as a stayer, a reliable brand. Wrangler always catered with a variety of leg length and style and their jeans are recognisable with the famous "W" signature located on the back pocket. This brand, above the many has been the preference of the all Male man across the world.
3. G-Star
G-Star evolved from the Dutch designer Jos Van Tilburg and since 1989 when this jean made its debut, has remained as one of the affordable, popular, comfort fitting jeans throughout the world. From Melbourne in Australia to Paris in France and of course, San Francisco, to London, there's something about the freedom these jeans provide that have people coming back for a second, a third … a forth pair. They're not vanishing anywhere fast.
2. Lee
Lee has been around since you were no bigger than a minute and that's the truth. The Lee brand is among the best sellers of all time and we'll be reminded this jean will probably outlast us. Lee brand took off with half of the market share in the late '80's when they began spilling the comfort secret. With a perfect position for the pockets, both front and back, they were difficult to fault. They remain unique in every sense of the word and as for a pair of jeans, they ain't about to let you down. They also look gorgeous as shorts.
1. Levi's
Did we mention something about rank and order? How we landed at Levi's being our number one brand is something of a given. Since the Levi's brand was launched in the mid 1800's it has been one that has belonged at the pinnacle of the top leading, best selling brands ever to hit the global market. It's all about the denim, the double stitching, the… damnit, it's the brand. Whoever could, in the olden days, way back in the 1970's, afford a pair of Levi's was considered class. The Levi Strauss and Company made a name for itself that stuck and with a temerity and determination, struck the entire world with an unforgettable brand. To this day, the jeans I wore throughout the 1970's (they died in 1979 and came back as shorts) are to this day still alive in 2016! That is a testament to a brand that has outlived and will probably out live me.